Posts for tag: vaping
By Heritage Grove Family Dental
September 21, 2020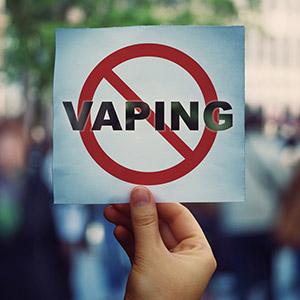 E-cigarettes have taken the world by storm, especially among younger adults. The reason: the widespread perception that "vaping" is healthier than smoking tobacco.
But a deeper look at this wildly popular habit reveals a product that doesn't live up to its reputation as smoking's "safer alternative." One aspect of health that's especially in harm's way is the mouth: Teeth and gums could in fact be just as prone to disease with an e-cigarette as the tobacco variety.
E-cigarettes are handheld devices that hold a cartridge of liquid vaping product, which is then heated to produce an inhalable vapor. Technically, it's an aerosol in which solid chemical compounds within the vaping liquid are suspended in the vapor. The aerosolized vapor thus serves as a transporting medium for these chemicals to enter the user's body.
It's these various chemicals inhaled during vaping that most concern dentists. Top on the list: nicotine, the addictive chemical also found in regular tobacco. Among its other effects, nicotine constricts blood vessels in the mouth, causing less blood flow of nutrients and infection-fighting cells to the gums and teeth. This not only heightens the risk for gum disease, but may also mask initial infection symptoms like swelling or redness.
Flavorings, a popular feature of vaping solutions, may also contribute to oral problems. These substances can form new chemical compounds during the vaping process that can irritate the mouth's inner membranes and trigger inflammation. There's also evidence that e-cigarette flavorings, particularly menthol, might soften enamel and increase the risk of tooth decay.
Other chemicals commonly found in vaping solutions are thought to increase plaque formation, the sticky film on teeth that is a major cause for dental disease. And known carcinogens like formaldehyde, also included in many formulations, raise the specter of oral cancer.
These are just a few of the possible ways vaping may damage oral health. Far from a safe tobacco alternative, there's reason to believe it could be just as harmful. The wise choice for your body and your mouth is not to smoke—or vape.
If you would like more information on the oral hazards of e-cigarettes, please contact us or schedule an appointment for a consultation. You can also learn more about this topic by reading the Dear Doctor magazine article "Vaping and Oral Health."
By Heritage Grove Family Dental
April 14, 2020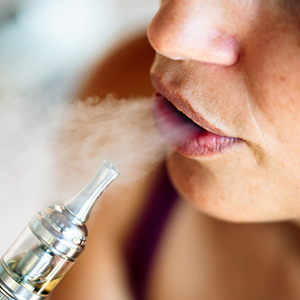 The first week of April is National Public Health Week, putting the spotlight on health issues that impact us all. The popular practice of vaping is one of those top issues this year due to its connection with recent lung illnesses and deaths. But this isn't a new problem—dentists have been critics of vaping for some time now over the growing evidence of its effect on oral health.
Vaping is the popular term for inhaling aerosol vapors through an e-cigarette (or e-cig for short). The electronic device contains a small reservoir filled with flavored liquids that contain nicotine and other chemicals. The device heats the liquid, turning it into a vapor that's inhaled or "vaped" into the lungs.
Vaping has been touted by proponents as a safer alternative to cigarette smoking. But there's growing evidence that vaping isn't a kinder and gentler way to "smoke." A good portion of that evidence comes from dentists who routinely treat oral problems caused or worsened by vaping.
In reality, the adverse effects of vaping on oral health aren't much different from smoking. Like smoking, vaping ingredients can irritate the inside of the mouth and cause dryness, an ideal environment for dental disease. And nicotine, the main chemical in both vaping and smoking, constricts blood vessels that deliver nutrients and disease-fighting antigens to the gums and teeth.
If these hazards weren't bad enough, recent clinical findings seem to indicate they're only the tip of the iceberg. Researchers from New York University's (NYU) College of Dentistry have found evidence from a combined study of cigarette smokers, e-cig users and non-smokers that vaping may significantly alter the mouth's microbiome to the ultimate detriment of oral health.
A "microbiome" is a term describing the intricate relationship between the millions of microorganisms inhabiting the human body and the body itself. While a few are malicious, many, namely in the gut and mouth, help the body obtain nutrients from food and fight against disease. Disrupting that delicate balance opens the door to diminished health.
The NYU researchers found that both smokers and e-cig users had higher levels of pathogenic bacteria in their saliva than non-smokers, suggesting both habits disrupted the mouth's microbiome balance enough to allow less benevolent bacteria to flourish. They also found that both smokers and e-cig users had significantly higher incidences of gum disease (72.5% and 42.5%, respectively) than non-smokers (28.2%).
If you're a smoker, a cessation program to quit the habit—not switching to vaping—is the way to a healthier life. If you would like more information about the effects of vaping on your oral health, please contact us or schedule a consultation. To learn more, read the Dear Doctor magazine article "Vaping and Oral Health."